SOCT COPERNICUS CANON-OPTOPOL
SOCT COPERNICUS CANON-OPTOPOL
£21,020.00
Reference: OMP12631 Age: 9-10 years Location: none-uk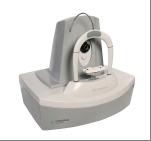 ---
- is used for vivo imaging and retinal measurements;
- uses spectral tomography to produce high-resolution structural images of the retinal structure;
- Retinal thickness analysis with topographic maps;
- Real-time images of the retina section;
- 3D images, analysis of differences and monitoring of retinal pathologies;
- RPE analysis;
- automatic retinal image tracking;
- automatic alignment of the spectrometer;
- pupil diameter min 3 mm;
- scanning speed 25,000 scans/sec.

User manual and supply power cable included.
Ready to be used.