Topcon TRC-NW7SF Mark II complete station
Topcon TRC-NW7SF Mark II complete station
£8,500.00 (Delivered)
Reference: OMP14959 Age: 8-9 years Location: none-uk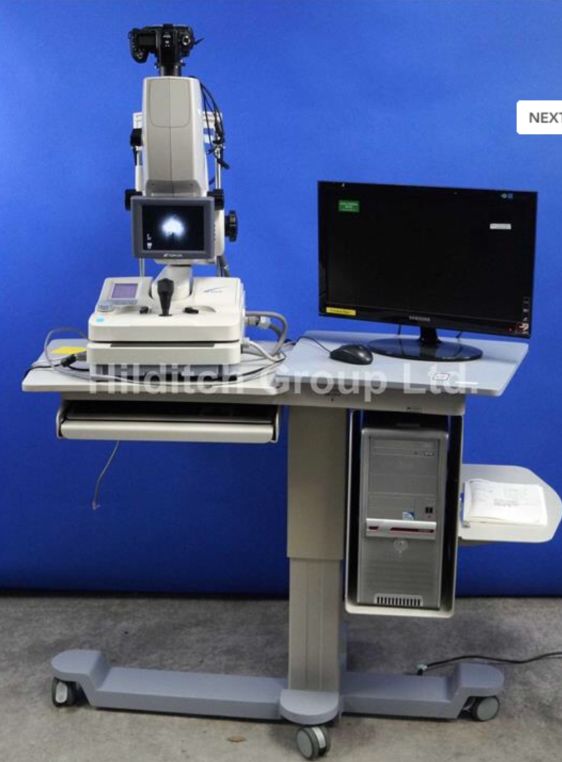 ---
Description
Serial Number:

677314

Manufacture Date:

2010

Associated Equipment:

Nikon D90 Digital Camera

Serial number: 6643275

Accessories:

Computer Tower

Monitor

Keyboard

Manual

Mouse

Condition Report:

The camera unit powers on and passes its initial self checks OK.

Computer unit (image management system) powers on and windows XP proffessional boots up successfully.

Topcon Mark II rotary knobs, small LCD colour screen, Image LCD screen, positioning joystick plus the trigger, Nikon camera, image zoom and focus adjustments are all functional and in good condition. Forehead band, chin rest, light indicator and lens cover are all present and in good condition.

On the computer image management system, the main LCD monitor, keyboard, mouse and table electric height adjustments are all functional. Main image handling software imagenet i-base version 3.10.5 .

Overall this unit is in excellent condition.

***Motorized table not included. Sold separately.***
Please contact me if further details or pictures are needed.