Rondo Unit
£3,995.00
Reference: OMP3083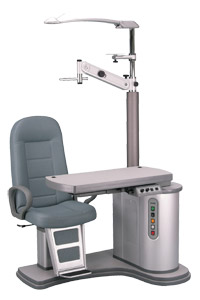 ---
Includes black deluxe Prima motorised chair.
Silent up/down movement by way of new electric motor.
Manufactured using solid wood and sheet steel.
No table overhang in the out position, compartment for hand held instruments, twin illumination controls.
Available with optional refraction arm.
RONDO is an ophthalmic unit that has been manufactured for many years and has always had a great success due to its elegance and technical features. It is completely made of steel and wood and guarantees great stability and a long life.
It is equipped with either a sliding table top or a delta table top for two instruments. Left-handed versions are also available.
It is equipped with a foldaway drawer, sited in a convenient position, for placing ophthalmoscope and skiascope, protected from dust.
Choice of other colours are available in Blue, yellow, green, bordeaux, grey and dark brown
Chair colour options @ £125 extra
Optional motorised refraction arm @ £995.00
Optional manual refraction arm @ £695.00
Rondo Floorplan (30.1kb)